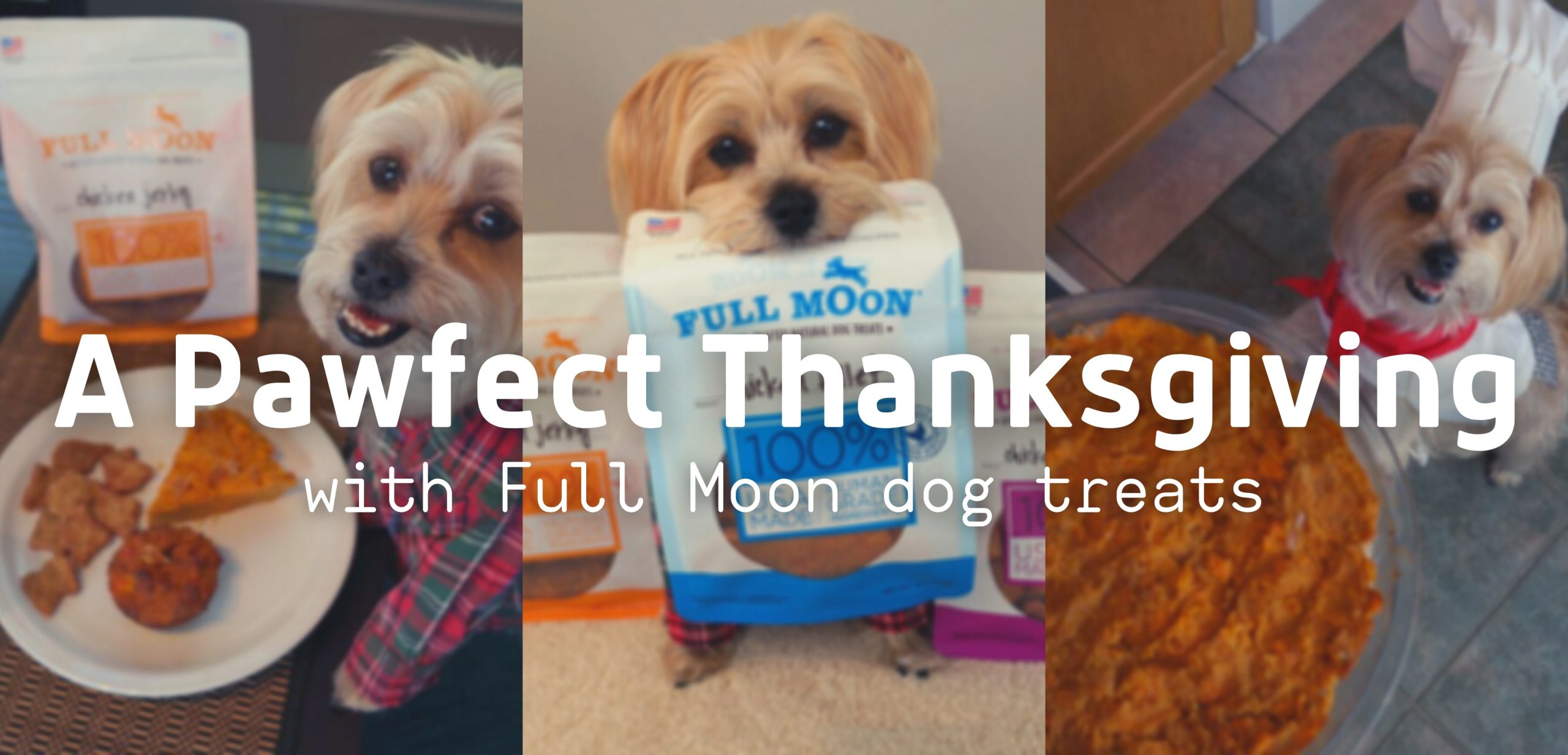 A Paw-Fect Thanksgiving Feast with Full Moon Treats
thanksgiving is almost here! it's one of my favorite holidays. there's nothin' better than stuffing your face with juicy turkey, a slice of pumpkin pie, and three helpings of green bean casserole. *yummm*
but did you know that a lot of thanksgiving-feast foods aren't healthy for dogs? some are downright dangerous! 🙁
here's an article

i found that has some info about what you should and shouldn't feed your pup this holiday.
while you're busy prepping the house for company and cooking up a storm in the kitchen, make sure you don't forget about your pups! they need to have a delicious thanksgiving feast too, you know 🙂
if you're not sure what to make, here is my rambo-approved thanksgiving menu with four easy-to-follow recipes, sponsored by none other than my favorite dog treat brand Full Moon!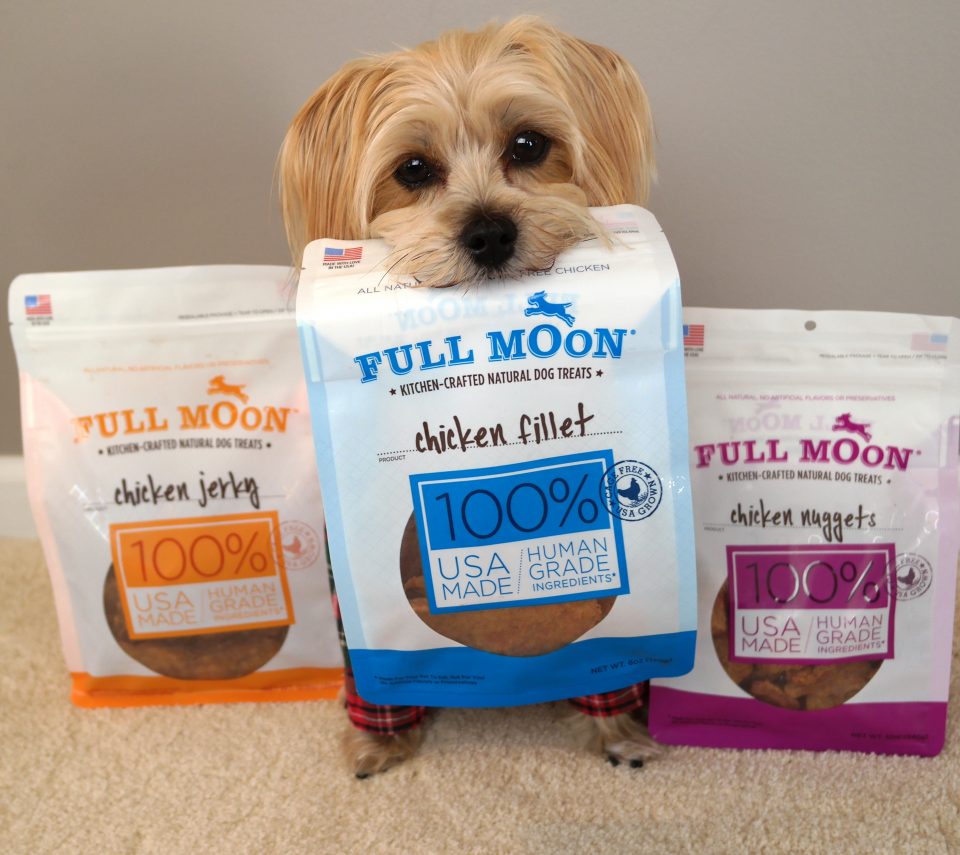 note: please consult your veterinarian before making any dietary changes!
Paw-Fect Beverage: Full Moon Baconritas
there are tons of different ways to make non-alcoholic, dog approved baconritas, but this recipe is my favorite! this frozen drink of deliciousness is great for pups who want to quench their thirst year-round, not just during the warmer months 🙂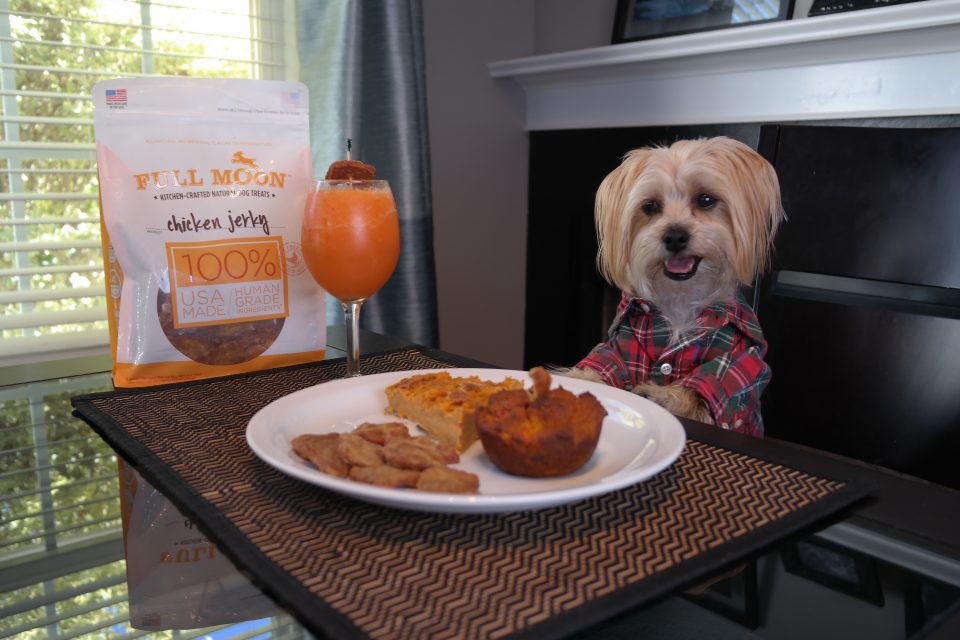 the Ingredients:
1 quart low or no sodium chicken broth

1 cup of your dog's favorite fresh vegetables (i like broccoli, sweet potatoes, or carrots!)

2 slices of turkey bacon (cooked)

unsweet coconut

one piece Full Moon chicken jerky (chopped)
what to do:
pour the chicken broth into an ice tray and freeze two hours until firm

chop up the fresh vegetables and set aside (for this version, i used carrots!)

chop up one full piece of full moon chicken treats

once the ice cubes are firm, combine in a blender along with the fresh veggies and two slices of turkey bacon

blend it up!

pour into a fancy bowl or glass

sprinkle with the unsweetened coconut and top with some chopped Full Moon chicken jerky!
makes about four baconritas (or two, depending on how big the glass is…hehe)
Appetizer: Keep It Simple With Full Moon Chicken Nuggets
what dog doesn't love chicken nuggets? Full Moon makes some of the most doggone delicious, pet-approved chicken nuggets i've ever tasted. they're perfect for thanksgiving appetizers, and they take zero seconds to make!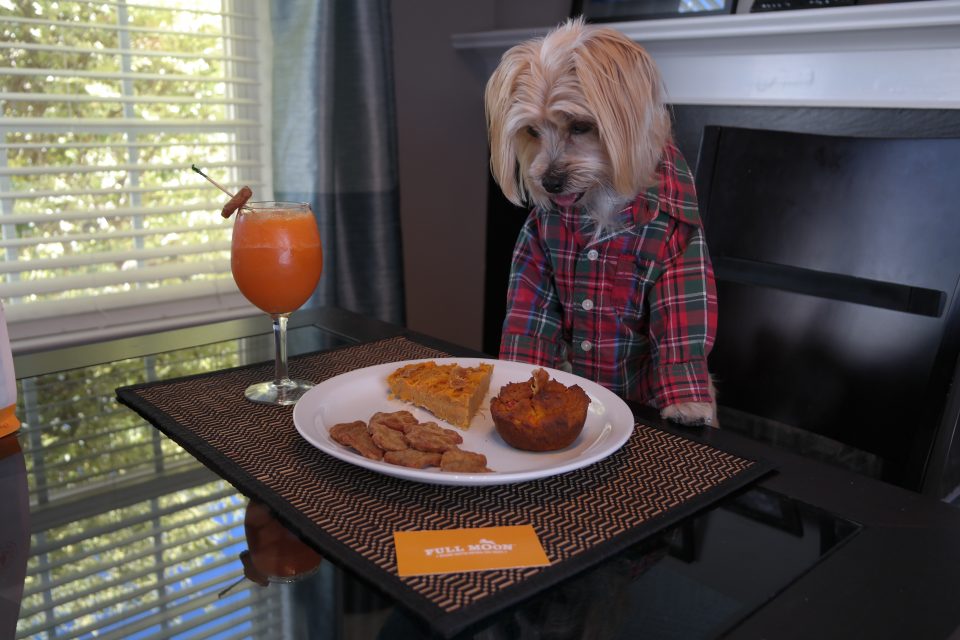 just open the bag, arrange a few chicken nuggests on a fancy thanksgiving-looking plate, and serve to your pooches!
Side Dish: Cranberry Mutt-fins with Delicious Treat Garnish
thanksgiving is all about the sides – at least in my book! here's a yummy take on cranberry muffins that you can serve to your dog that they're sure to ruv 🙂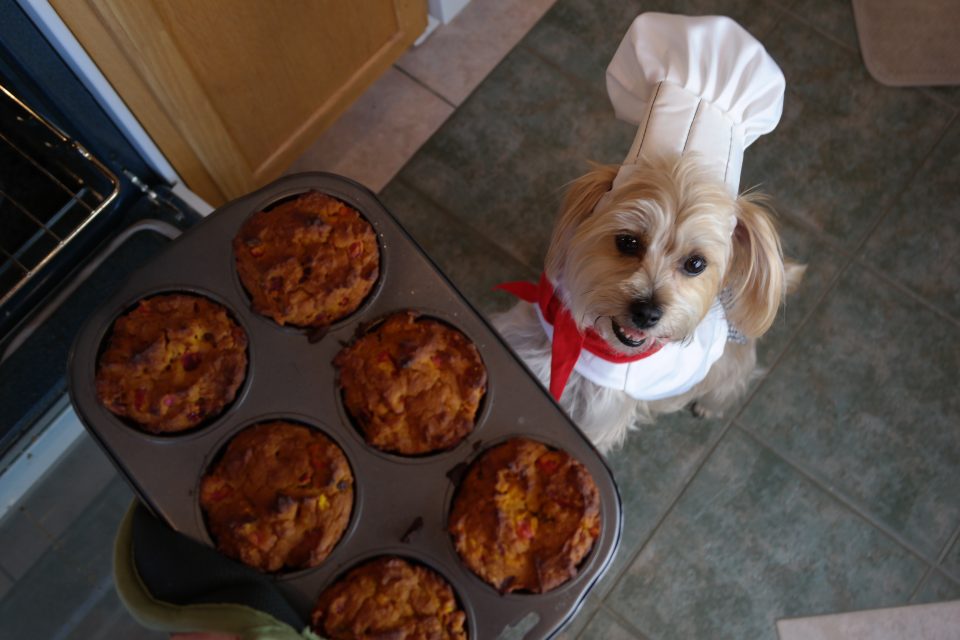 the ingredients:
2 eggs

¼ cup natural honey

¼ cup olive oil

1 cup canned pumpkin (not pumpkin pie mix!)

1 ½ cup amaranth flour (it's gluten free!)

1 teaspoon ground ginger

1 teaspoon baking powder

1 teaspoon baking soda

1 cup chopped fresh cranberries

1 piece Full Moon treats (i suggest using the chicken jerky flavor), broken into small bite-sized pieces
what to do:
preheat your oven to 375 degrees

spray a mini muffin pan with non-stick cooking spray

combine wet ingredients including eggs, honey, olive oil and pumpkin in a bowl and mix well

combine dry ingredients in a bowl, mix well, then add to the wet ingredients

stir in the chopped fresh cranberries

spoon mutt-fin mix into the muffin pan (careful, don't overfill!)

bake for 30 minutes or until mutt-fins spring back when touched lightly in the center

take out of oven and stick a piece of chicken jerky in the center of each muffin

cool at room temperature for one hour

and then serve!
store in an air-tight container in your fridge for a week, or freeze in ziplock bags.
Dessert: Sweet Paw-Tato and Peanut Butter Pie with Treat Garnish
thanksgiving wouldn't be the same without a big honkin' slice of pie! except, normal pie isn't good for dogs – too much sugar, butter and other stuff that's bad for our health. this recipe doesn't have any sugar, butter, or unhealthy junk in it, and the best part is that dogs go crazy over it!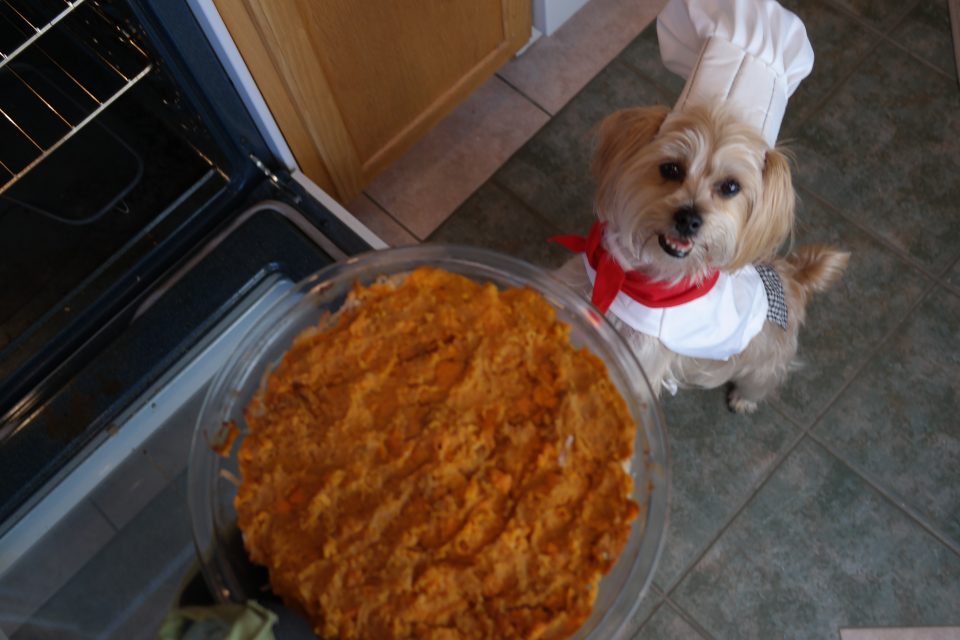 the ingredients:
3 cups cooked mashed sweet potatoes

½ cup unsalted, no sugar added peanut butter

¼ cup garbanzo bean flour

¼ teaspoon baking powder

1 egg

1 teaspoon cinnamon

chopped Full Moon treats – try mixing it up this time with the new chicken fillet treats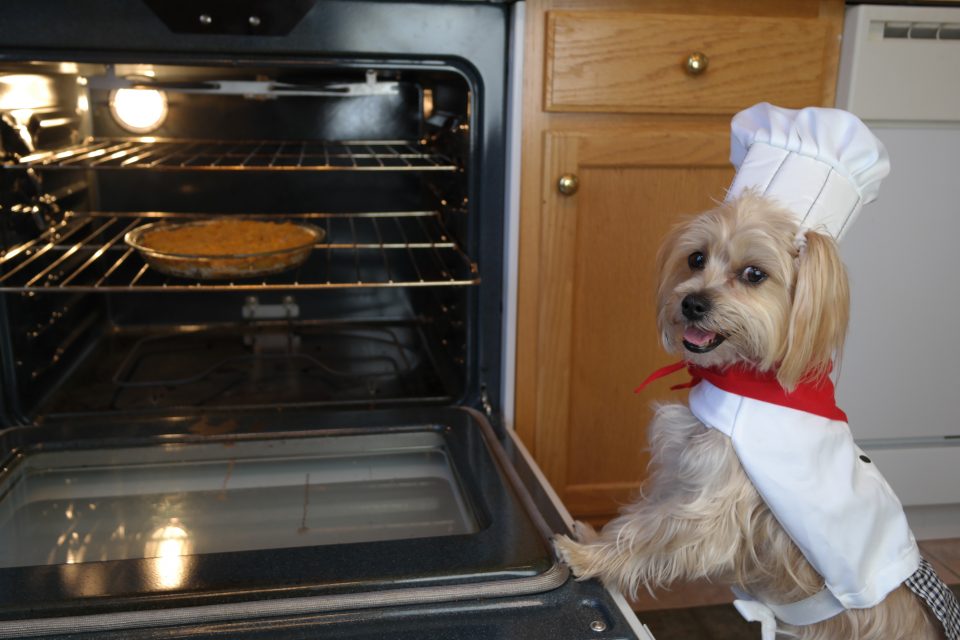 what to do:
preheat your oven to 350 degrees

mix together the mashed sweet potato, peanut butter, garbanzo bean flour, baking powder, egg and cinnamon in a bowl

spray a pie dish or baking pan pan with with non-stick cooking spray

cover the bottom of the dish with a thin layer of shredded coconut

pour the sweet potato mixture onto of the layer of coconut

bake for 30 minutes until a toothpick comes out clean

take out of the oven and garnish with chopped treats

let cool at room temperature for one hour (

never

serve hot food to your dog!)

…and then serve!
will you be serving any of these dog-licious homemade treats to your pooch this holiday? do you have a pet-approved recipe that you'd like to share? let me know in the comment section below!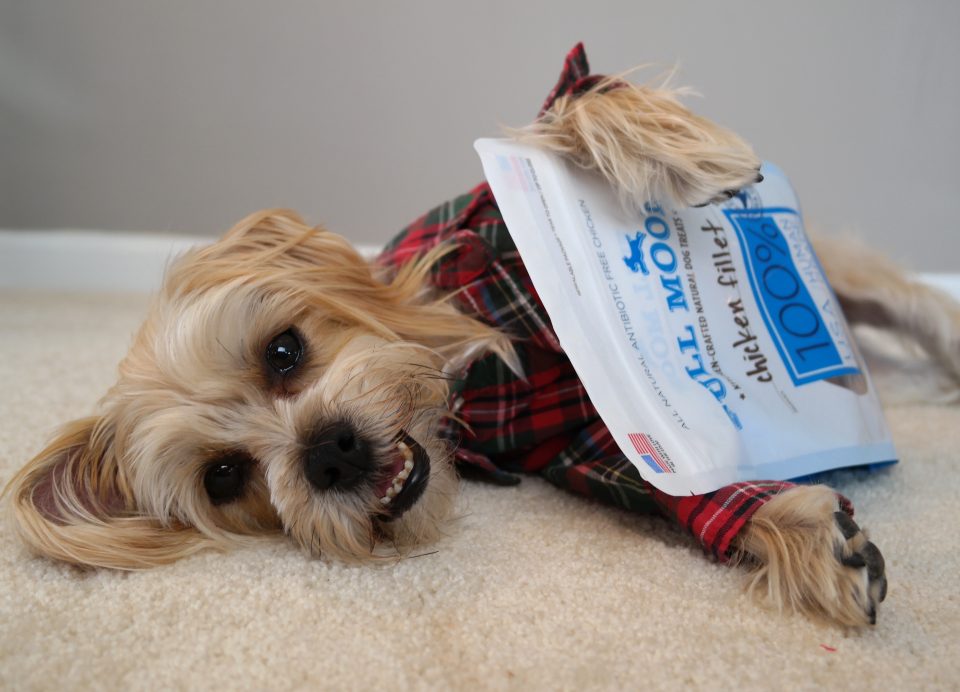 a biiig thank you to Full Moon Pet for sponsoring this blog post! i've been eating Full Moon treats for about a year now, and when they asked me if i wanted to do a sponsored post with them, of course i said YES!
Full Moon treats are 100% natural and 100% made in the USA. they use human-grade ingredients, and their chicken flavors only use real cage-free, USA grown chicken. they're grain free (no wheat, corn or soy!), and don't have any of that nasty stuff like glycerine (yuck!). basically, they're just about the best treat you could feed your dog, which is why they're the only treats the human buys for me! (she wants me to live forever, so she only gives me the best stuff, #duh).
if you're wondering where you can purchase Full Moon treats, here's a link to their "where to buy" store locator! they're also available on Amazon and Walmart.com.