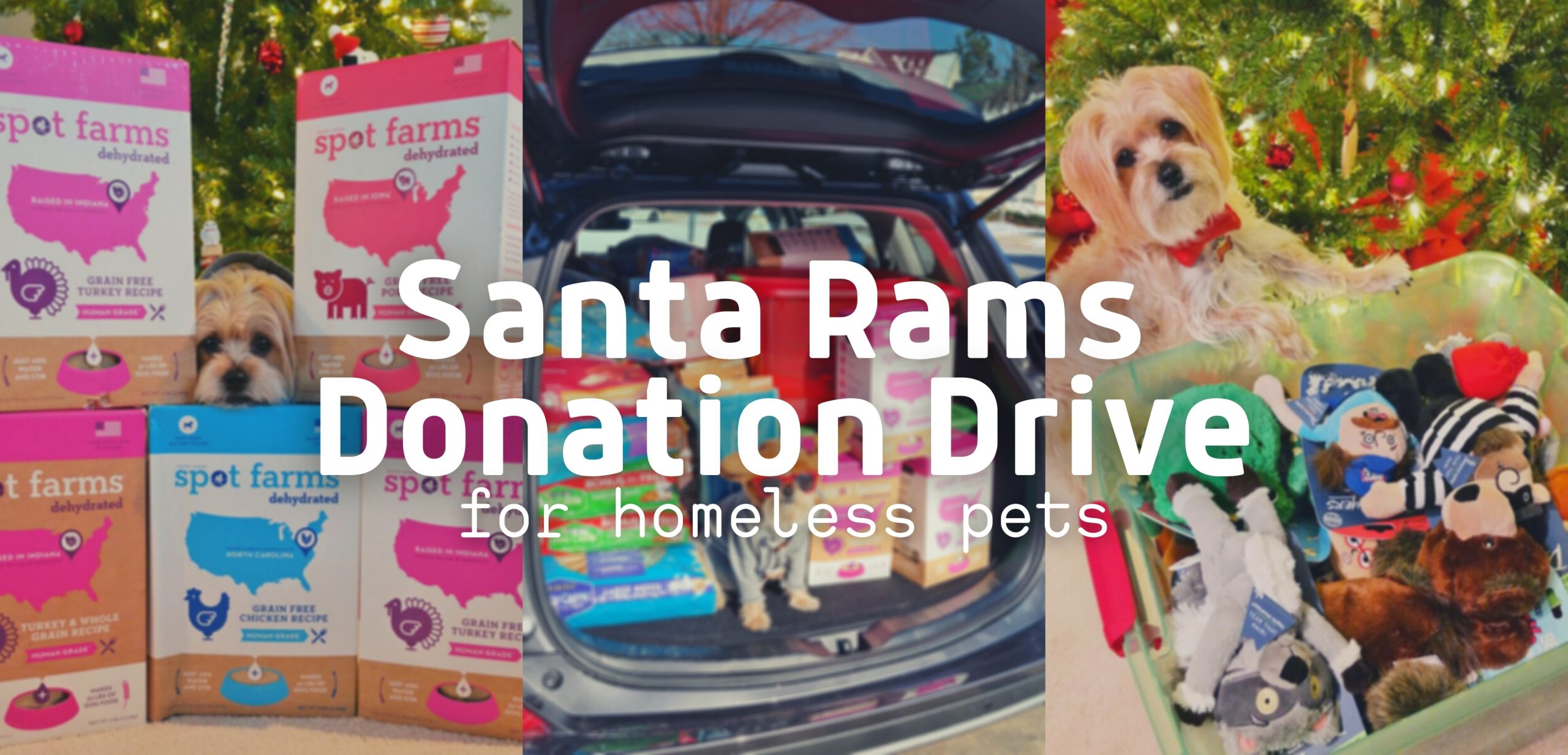 Santa Rams Donation Drive for Homeless Pets
there's nothing better than giving back to homeless pets during the holidays!
this year, i wanted to do something special for a very deserving local animal rescue. but how could a little pup like me make a big difference in the lives of homeless pets?
…by hosting a donation drive, of course!
last year i collected donations for my first ever drive and it was so exciting!
this time, i wanted to do it bigger than before. but how was i going to do that, i wondered?
and then the answer came to me (because duh, i'm one smart mother pupper!): i could ask some of my favorite brands if they'd be interested in donating to my cause! and collect donations from all our neighbors in the rambohood! and then maybe even some people at my human's pawffice would want to donate stuff, too!
#OMG #THISISSOEXCITING 🙂
Kicking off my 2nd Annual Santa Rams Donation Dive for Homeless Pets
to kick things off, i asked some of my favorite brands if they would like to help out. Bark, Isle of Dogs, Full Moon, and Spot Farms all raised their paws – er, hands – and said, "we're in!"
then, i made flyers – okay, my human made flyers, while i snored on the couch next to her – to share with our neighbors and everyone at her pawffice.
Soon We Were Swimming In Donations!
it wasn't long until donations started to trickle in…and then WHOOSH they started to flood in! between our neighbors, coworkers from the pawffice, and my brand pawtners, it didn't take long for our little garage to fill up with all sorts of items on the rescue's wish list.
then one night my human was moving a bunch of donations she collected that day into the garage (while i sat on my bum and "supervised," which is the most important job of all, in my opinion).
we took one look at the stacks of bags of dog food, the 150-odd cans of cat food (me-wow!), blankets, toys, and a gazillion other things that were piling up, and it became clear that there was no way all of this stuff would fit in our car on the day we were scheduled to make the drop off at the rescue.
#UhOhhhh #ThisIs #NoBuenoAmigo
what were we going to do?
sure, we could take multiple trips, but with such a teensy car, it would take us literally all day and all night. and maybe all day the next day. and maybe all day the following, too.
and even if we wanted to spend all day and night hauling donations to the rescue, we couldn't; we only had a small window of time in which to deliver everything before their office closed to the public for the weekend.
Umm…I Think We're Gonna Need a Bigger Car.
we reached out to our friends at Southeast Toyota Dealers to see if they could help. we worked with them last year, and they were super nice. maybe they'd be interested in lending us a paw?
"would you be interested in loaning us a big fancy RAV4 for the weekend, so we could deliver our donations to the rescue all at once?" we asked.
and they said yes! they love animals, and wanted to be a part of my drive benefiting homeless pets, too.
so, on the friday before we were scheduled to make our delivery, we picked up the *super shiny, incredibly fancy* 2018 RAV4 they offered to loan us for the weekend.
ta-dah!!!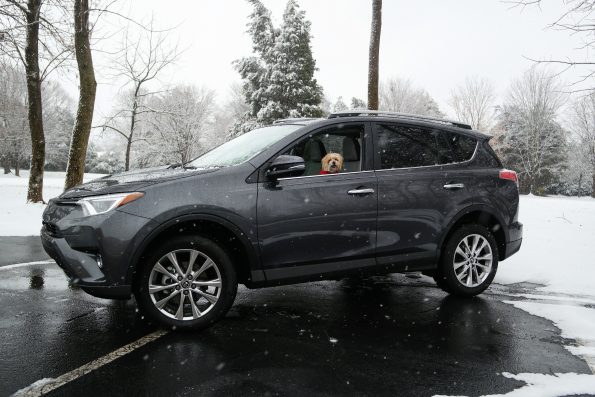 as we drove out of the lot, my human looked at me and said, "you know, rams, without you, none of this would be possible. you're the best dog in the entire world! when we get home, i'm going to fry up a whole package of bacon and give it to you for dinner. and then, i promise never to make you take another bath ever again, just to show you how much i love you."
*cough cough* alright, so it was more like, a look she gave me that said all of that. but when you spend as much time with someone as i spend with my human, a look is all it takes to say everything you want to say. or you know, something along the same lines. ish.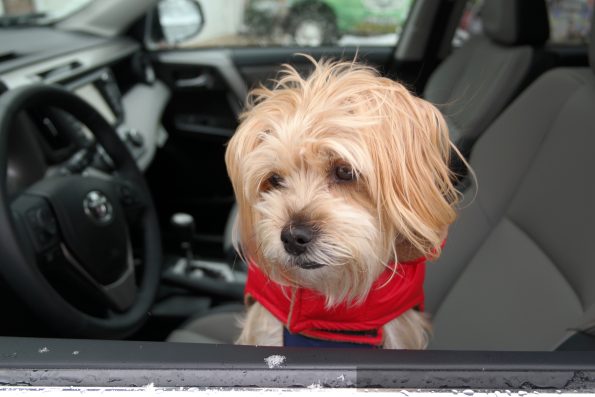 i never did get any bacon for dinner that night, but maybe she forgot? anyway…
'Twas The Night Before Donation Delivery Day, And All Through The House…
…not a creature was stirring…because we were out driving around, collecting donations from our neighbors. in. a. literal. snow storm!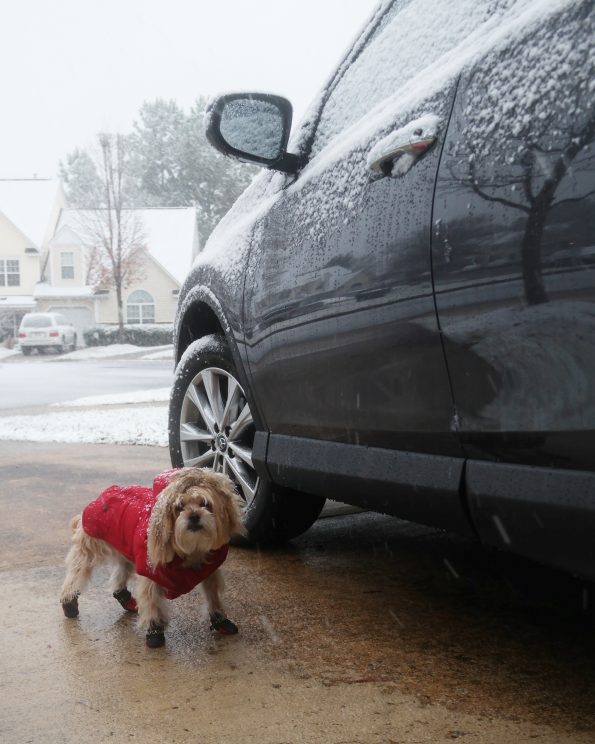 it doesn't snow much where we live, but when it does the roads get really bad (and the other drivers get worse!), and our little car doesn't stand a chance.
it was the perfect weekend to be driving around in a RAV4!
…even if one of us would have preferred to stay in and cozy up next to the fire and watch muttflix, and just let the other one drive around by herself in the snow collecting the last of the donations from our 'hood. 😉 #JustSayin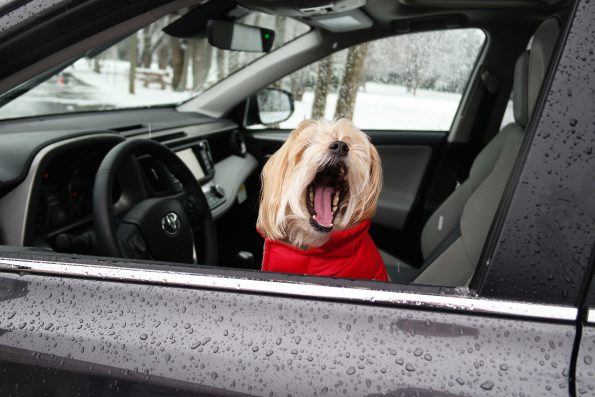 when we finished picking up all the donations, we headed back home (very veeerrry cautiously!) to begin packing up the rest of the items to take to the rescue the following day.
we spent hours and hours packing everything up (okay, it was more like 45 min, but in dog years that's a lot of time) until the RAV4 was almost bursting at the seams!
we still had more treats, pet food, pet beds, cat toys, dog leashes, and so much more in boxes on the garage floor, so our next door neighbor offered to help us transport the remaining items to the rescue in her own RAV4 (a funny coincidence!) the next day. 🙂
Delivery Day!
we woke up super early (for me, that's before the crack of noon) on donation delivery day to meet up with our neighbor so we could drive over to the rescue together.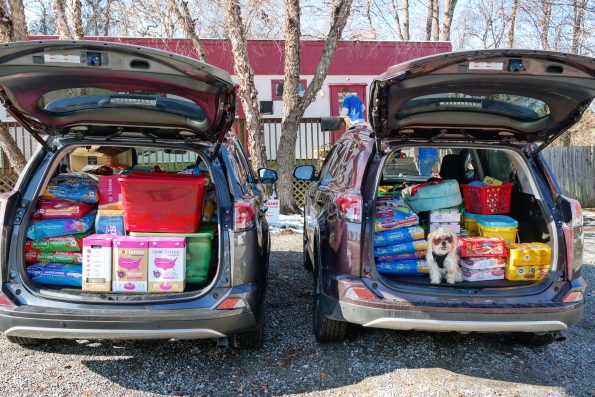 when we pulled up to the rescue we were met by a bunch of smiling volunteers. they were all completely blown away by how much stuff we brought them.
they kept thanking me and my human, and of course we said "you're welcome!" because if we didn't it would be kind of rude. but we also made sure to tell them that we wouldn't have been able to do any of this without our neighbors, coworkers, and brand partners.
check out all the awesome stuff our brand pawtners donated below!
My Friends at Bark Donated 19 Bags of Treats & 13 Dog Toys!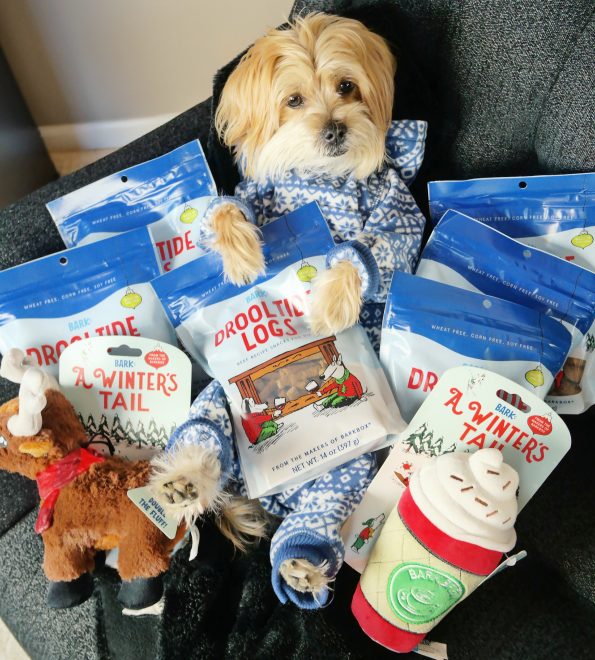 pssttt! If you think your pup would enjoy finding these toys and treats in their stocking on christmas, you're in luck!
they're all part of the "a winter's tail" and available at target! check them 'em out 🙂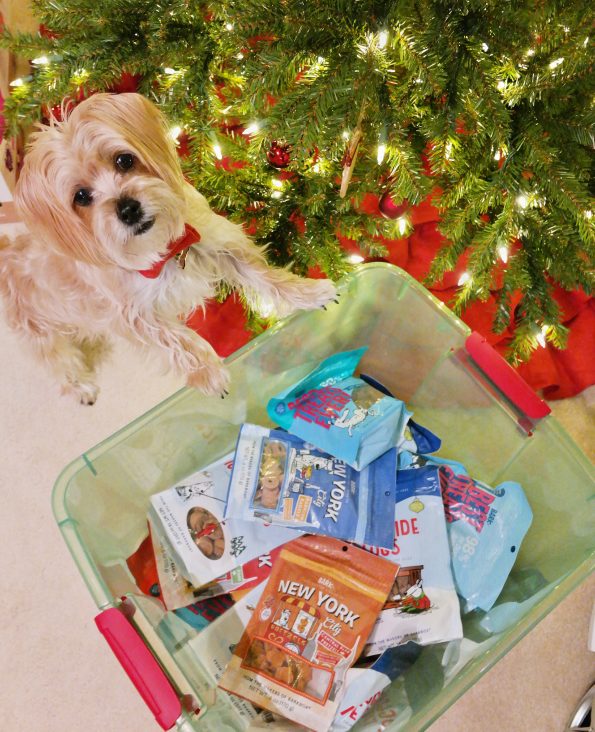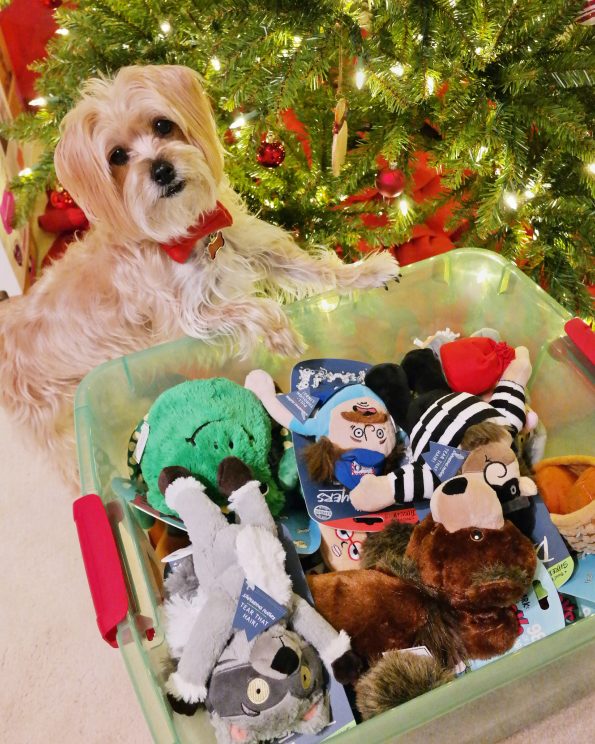 My Friends at Isle of Dogs Donated 31 Boxes of Puppy Treats!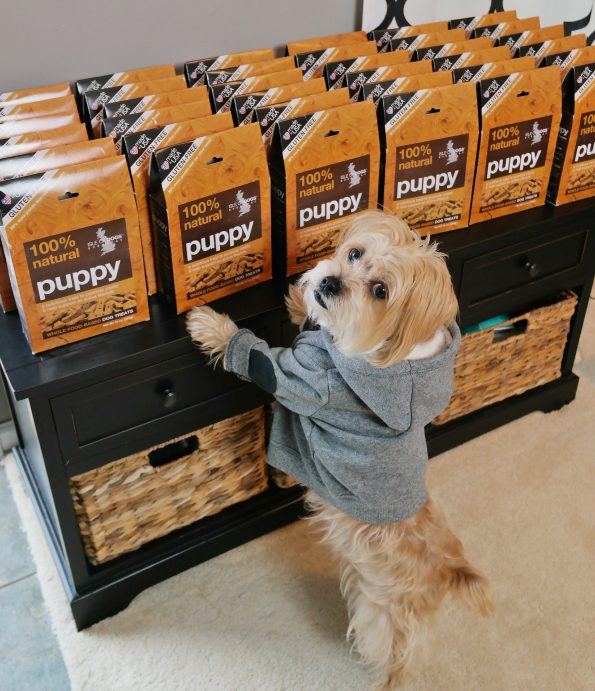 i love isle of dogs. they're all about superior grooming products- like natural dog shampoo – and super super healthy, natural dog treats, food and supplements to promote wellness. 🙂
pay a visit to isle of dog's website here!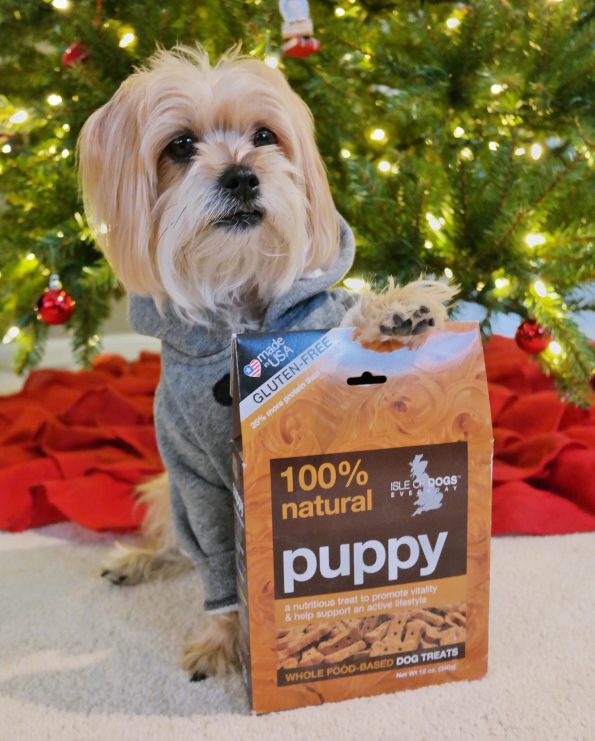 My Friends at Spot Farms & Full Moon Donated 32 Bags of Treats & 5 Boxes of Dog Food!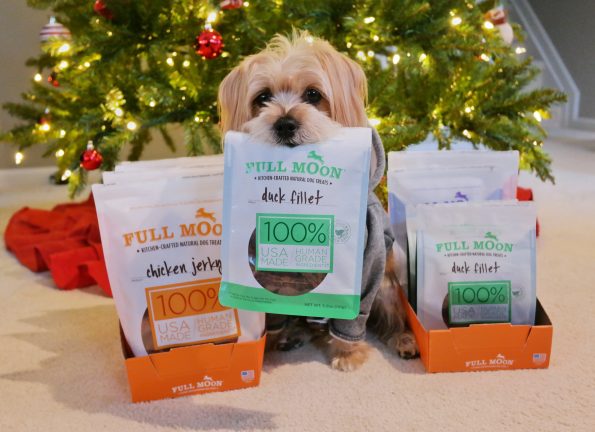 spot farms and full moon specialize in making delicious, super healthy treats and food for your pup. personally, the only kind of treats i won't turn my nose up after a while are the full moon chicken jerky treats. they are made in the USA and use only human grade ingredients. yum!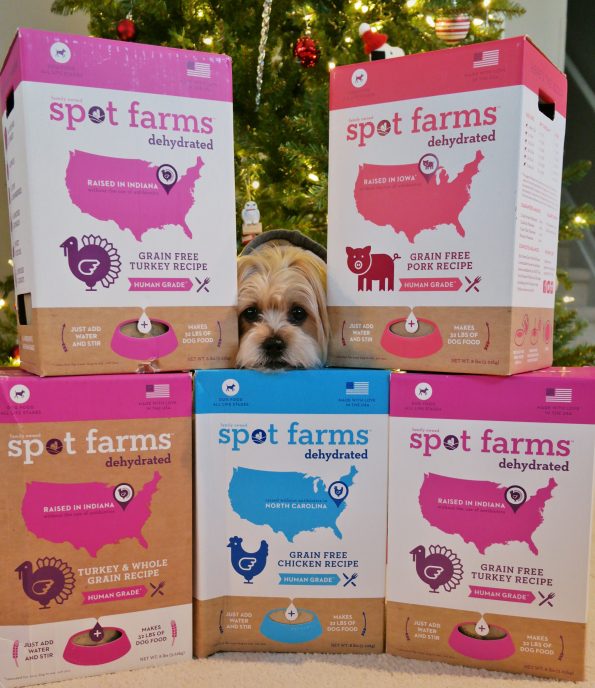 check out spot farms here, and click over to the full moon website here!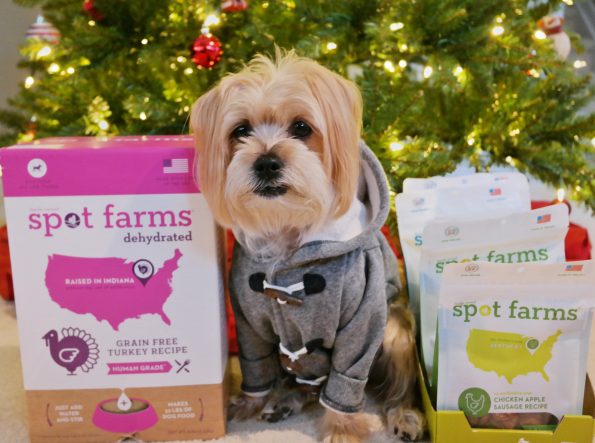 in all, we collected…
96 bags/boxes of dog treats & 4 large containers of cat treats
22 large bags of dry dog and cat food, 5 boxes of dehydrated dog food & 226 cans of wet dog & cat food
19 cat toys & 28 dog toys
13 leashes
100lbs of kitty litter! me-wow!
3 pet beds, 1 large expandable pet gate, 2 dog brushes, a box of puppy pads, 3 water bowls
4 packs of sponges, 3 boxes of trash bags, 20 rolls of paper towels
5 gallons of bleach, 2 gallons of washing machine detergent, 5 bottles of dish soap
21 towels and 23 cozy blankets 🙂
_ _ _
this was all made possible by my amazing brand partners:
Southeast Toyota Dealers, Bark, Isle of Dogs, Full Moon Pet and Spot Farms!
a huge thanks to each for their generous donation to my cause. 🙂