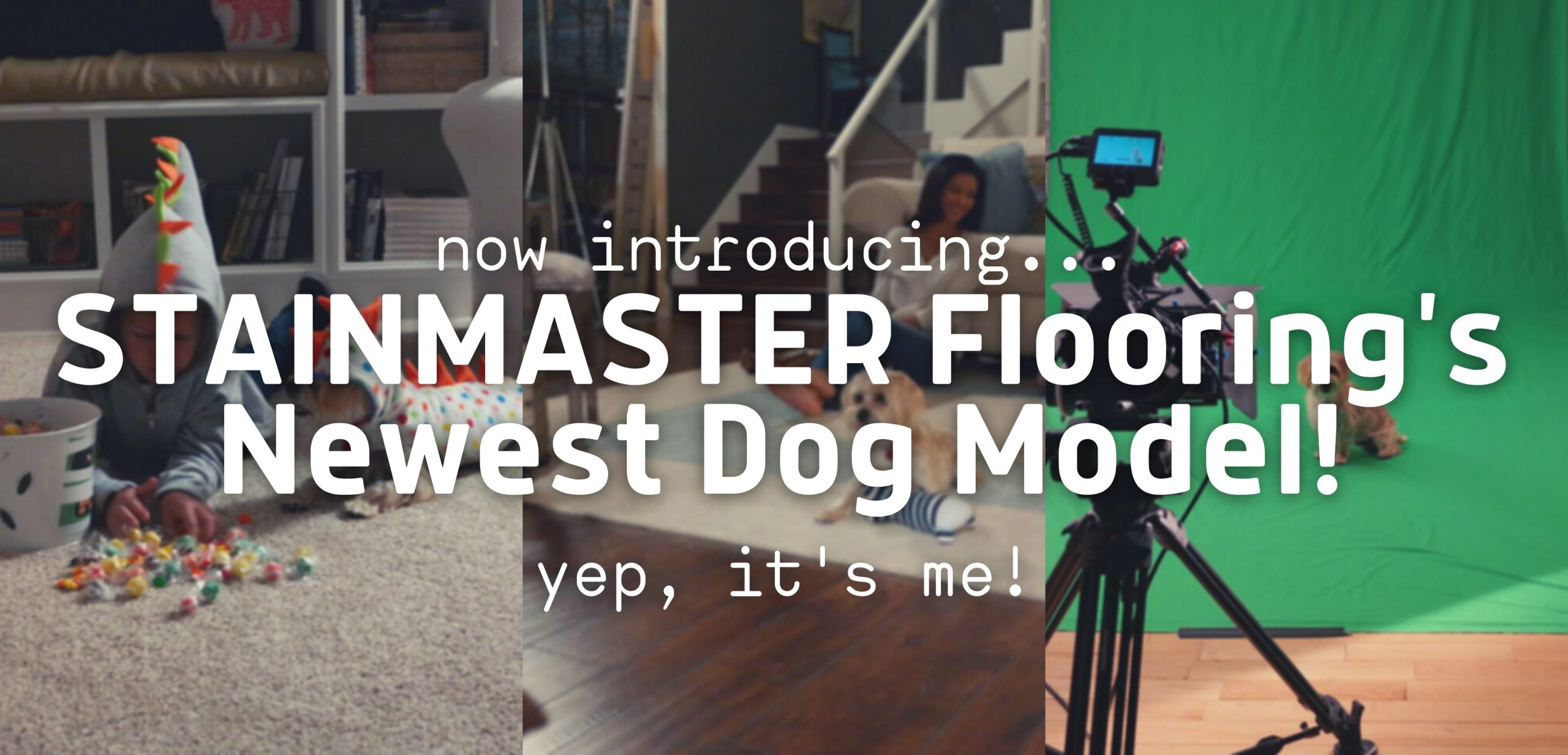 I'm a STAINMASTER Dog Model!
i've got some BIG NEWS friends! *drum roll please* are you ready? ok, here it is…
i'm officially a fancy-schmancy dog model!
thanks to my awesome agent (yep, i have an agent now, how cool is that?), i connected with the cool humans at stainmaster carpet earlier this year. they hired me and my human to do some photo and video shoots with their new signature squares carpet tile products.
i couldn't say a word (or even a bark!) about it until the products were officially released, but now i can tell the world! *struts around with tail in the air* just call me mr. rambo sir fancy-pants, because i'm bringin' home the bacon now!
keep on readin' for some exclusive behind-the-scenes pictures of me doin' my thang at my photo shoots (and psst, make sure to scroll to the bottom of this post to see the official launch video, featuring yours truly!).
behind the scenes of rambo's photoshoots…
'scuse me sir, but if you don't mind, would you please make sure to get my good side?
…which is every side. #Duh #CusImFabulous!
ahhh yes, the spotlight is where i belong!
now if we could just do something about this funky-looking backdrop, that would be great. it makes me look a bit pale, don't you think?
oh hey fake photo-shoot family, can i play with you?
or at least pretend to play with you, while i face my boo-taay towards the camera? trust me, i think they'll appreciate a picture or two of a fluffy-puppy butt. i mean, who doesn't love fluffy puppy buts? no one, that's who. #Truth
all right, i'm ready for my close up!
…and i'm also ready for a baconrita. a wise man once said, "it's 5 o'clock somewhere." pretty sure that applies to this situation, too. #JustSayin
'scuse me little girl pretending to be a member of my fake family…
can i have a piece of whatever it is you're snacking on? oh wait, hold on, let me take an awesome photo first. #BAM #ImANatural #OkNowWheresThatSnack
just lookin' like a natural and hangin' out on set.
i don't even care that this picture is blurry. look how happy i am! dog modeling is my JAM, y'all!
whatcha got there buddy?
sharing is caring. can i have a bite? please? oh come on. hurry, while the human isn't looking!
i'm getting dizzy just lookin' at you two!
this must be what it feels like to go to a club totally sober and being surrounded by a bunch of college freshman celebrating their first full week of school. #SlowDownOrElseYoureGonnaHurtYourself #Siiigh #KidsTheseDays
…well, that's what the human says, at least.
holy smokes, being handsome is EXHAUSTING work.
after a long day on set, i was pooped. the human claims i fell asleep sitting up in my car seat, but i don't remember. all i know is that when i got home, i went straight to bed with my teddy bear. even though it was only 7:30pm.
and now, for the photo you've all been waiting for…
ta-dah! look who it is on the front of the new stainmaster signature squares box!
it's ME! and my fake family!
this is what i like to call my "blue steel" look. thoughtful, yet…one sexy mother pupper. hehe 😉
and the official launch video, featuring ME!
check out the official product launch video below!
did you catch me dressed up as a bunny rabbit sitting in a magician's hat? that's my favorite part!
thanks to all the awesome humans at stainmaster who made my first big-time modeling experience a GREAT one! you guys are awesome. if i could, i would share all my bacon treats with you. at the very least, i will send you a few through the mail. they might not arrive totally edible, but it's the thought that counts, right? 🙂