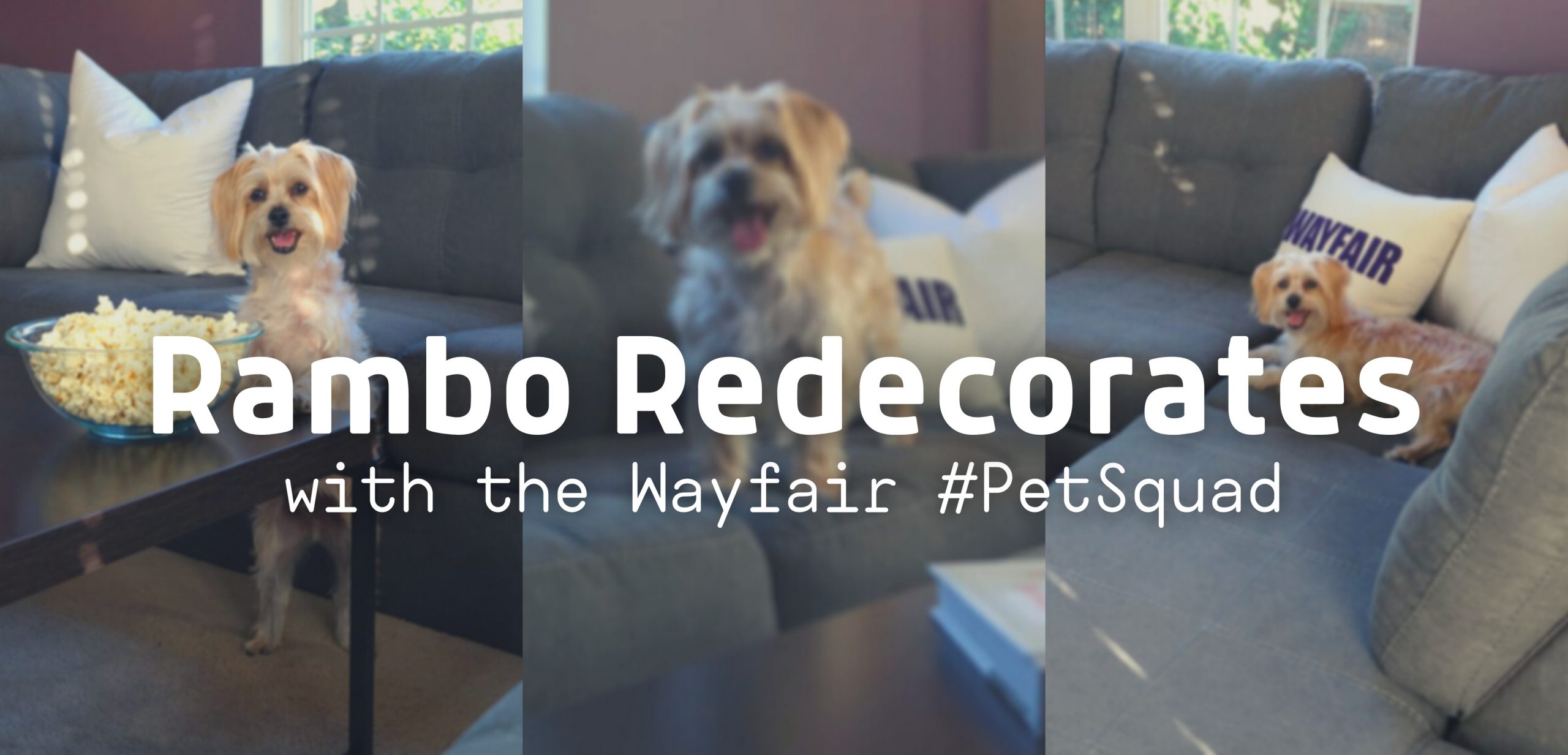 Rambo Redecorates With the Wayfair Pet Squad
i'm sooooo mother puppin' excited to announce that i, sir rambo the puppy, a.k.a. rams, ramikins and rambonator, has partnered with wayfair, the largest online destination for "a zillion things" home-décor and furnishing related!
yes, this is for real! i'm officially part of the #WayfairPetSquad, which is a group of social media superstar dogs and cats (ugh, cats, but whatever – these kitties are cool…for being cats, i guess *wink wink*) handpicked to be wayfair's four-legged ambassadors. holy smokes, right?!
#IsThisRealLife? #HurrySomeoneFeedMeSomeBaconToWakeMeUp #AndImAlsoReallyHungry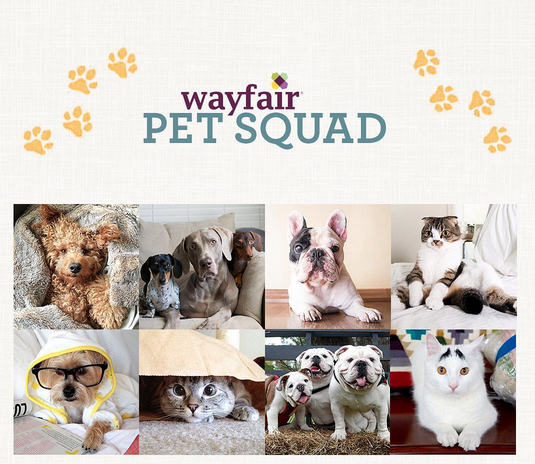 in exchange for an honest and unbiased product review, wayfair sponsored this blog post and sent me my choice of furniture to help jump-start my living room redecorating project!
ok, the furniture wasn't MY choice, it was the human's choice, but i pretty much agree with whatever she decides, especially if i get bacon treats afterwards, so it's all good.
quick backstory: when we/she bought our house (a.k.a. "rambo's palace"), we had NO furniture. so she negotiated the existing furniture into the sales contract (blah blah blah boring details), which was great because when we moved in we had a couch to sit and snuggle on, a table to eat at and a bed to sleep in. but after a while, we started to get tired of looking at someone else's old stuff. ya feel me?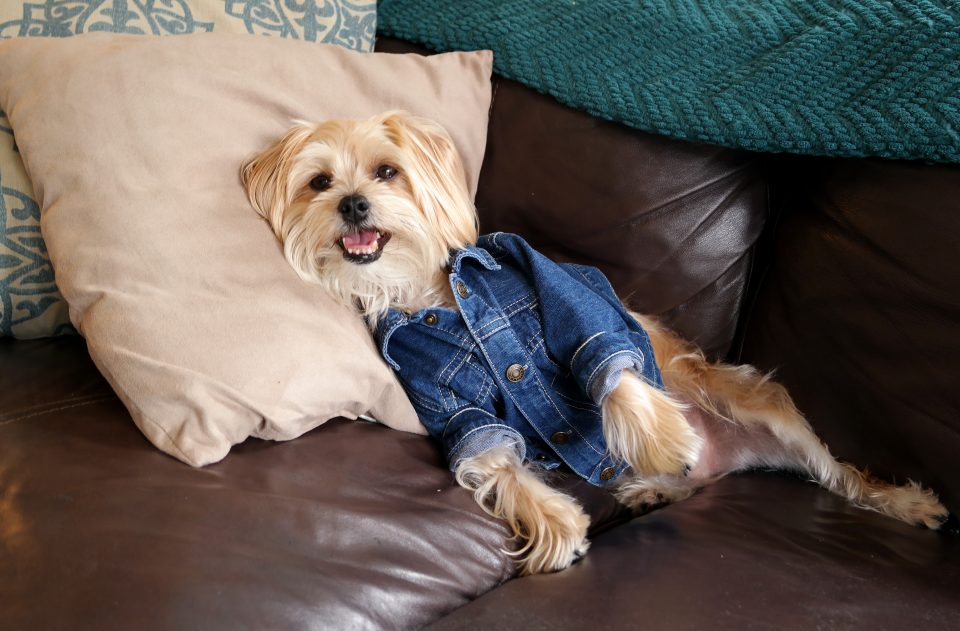 the old leather couch was the absolute WORST. ok, it wasn't as bad as NOT having a couch, but one of the armrests was kinda' broken, and the part of the couch where the cushions meet the back of the frame were coming apart, and it just looked really grody.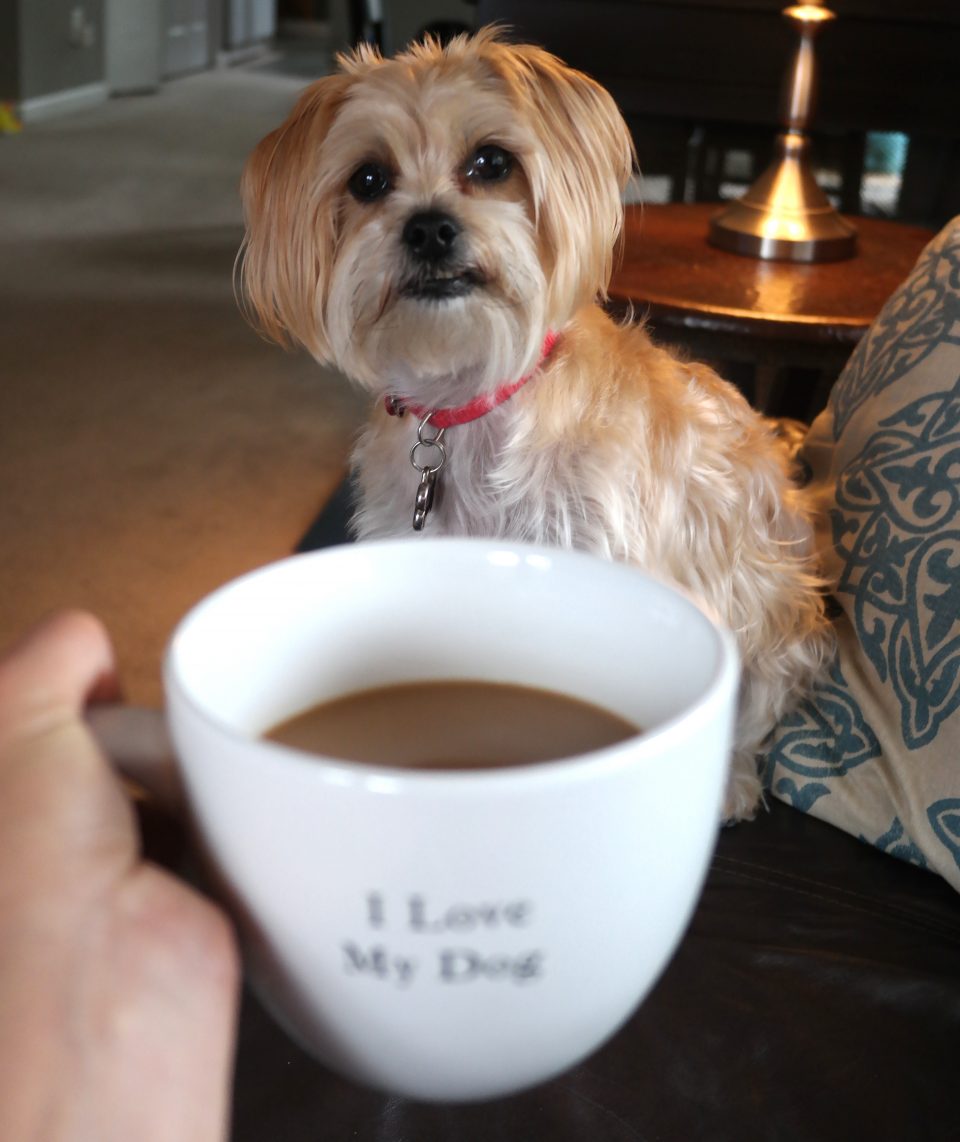 this couch is so grody, i don't even want to be sitting my bum on it right now…
so of course the first thing we decide to order is a NEWWWW couch!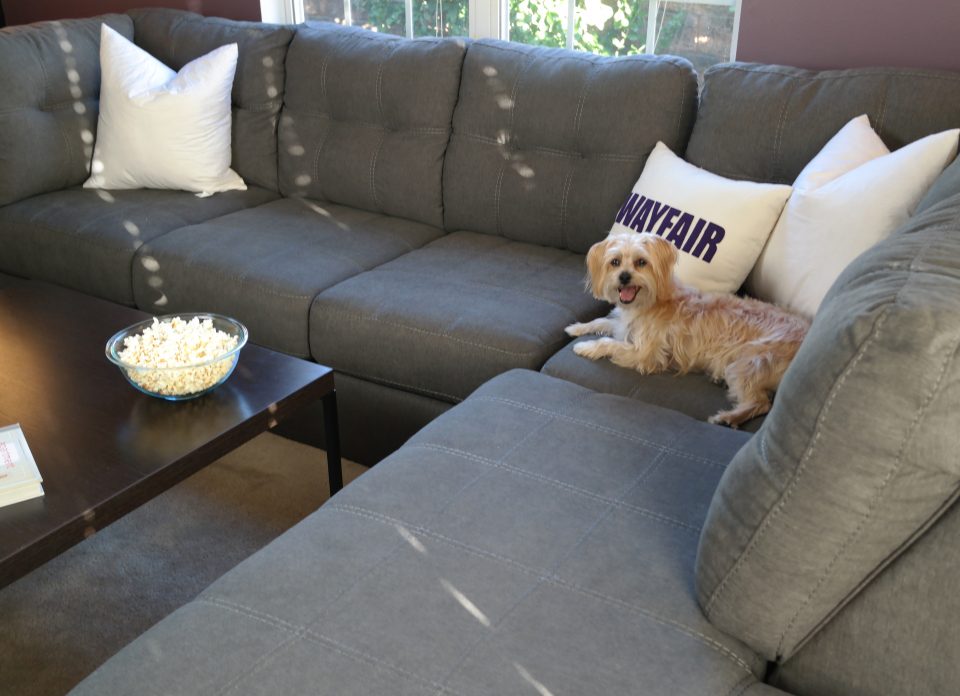 and check it out, this thing isn't just a couch, it's a sectional. which means: TONS of extra space for me, myself, and i. ok the human can join too 😉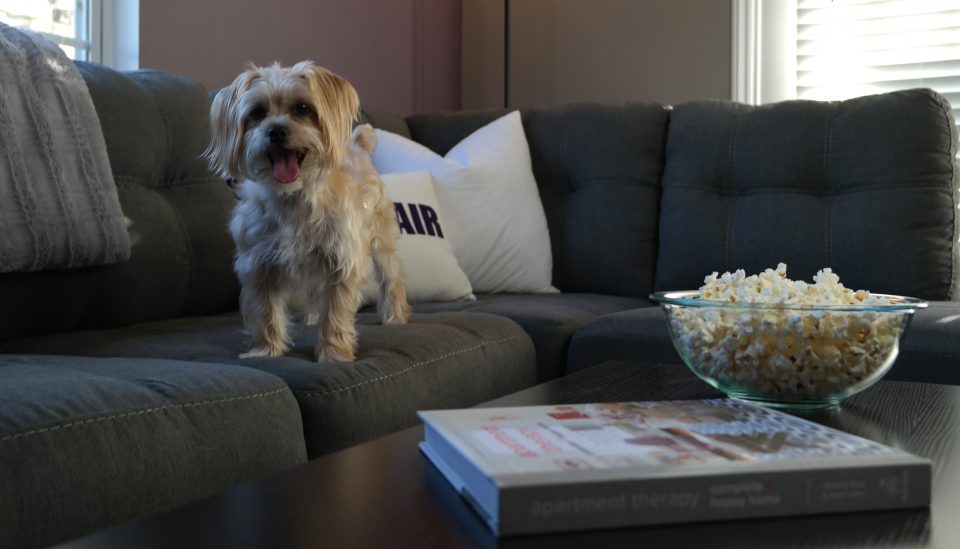 i had one favorite spot to sit on the old couch (perched on the top of the back cushions like a cat, #MeeeeooowMotherPuppers) but i have a TON of favorite spots to sit on this new one.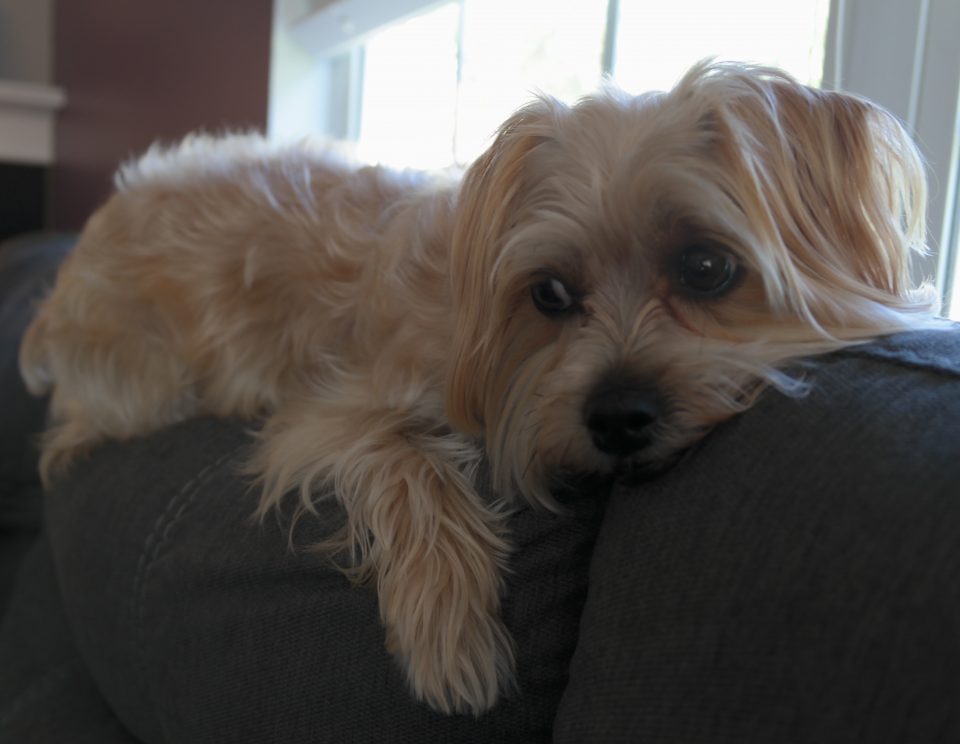 i played the "goldilocks game," meaning i took a quick nap in one spot, got up, had a snack, watched some squirrels outside, then took another quick nap in a different spot, and then repeated the process until i basically covered the entire couch. you think i'm joking? just look at these pictures: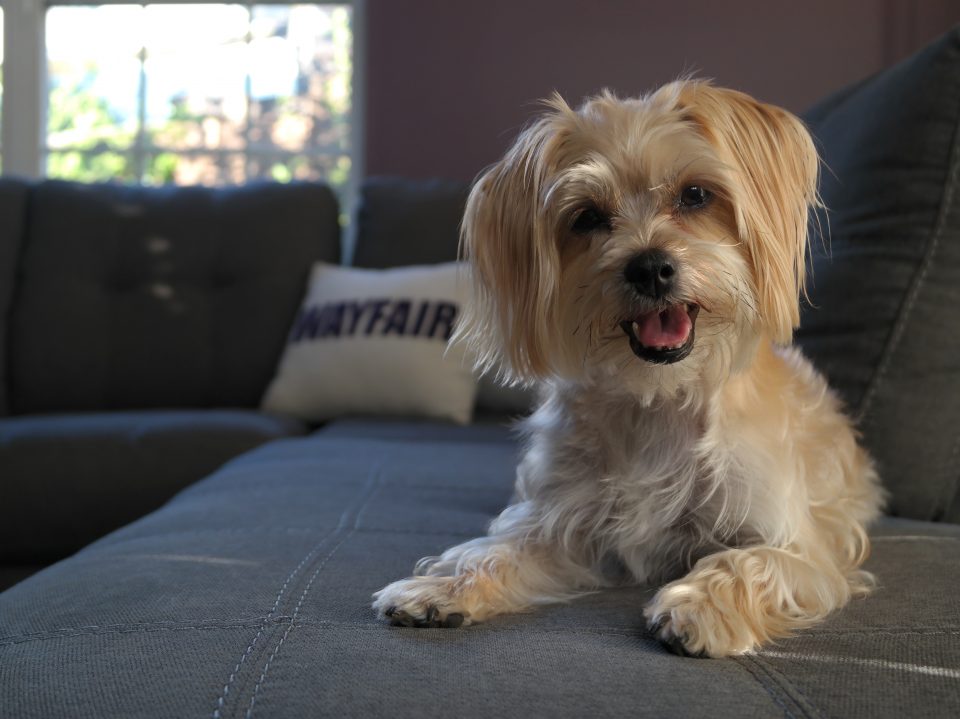 we also ordered a new coffee table to match the fancy new sectional!
the human's favorite thing about the new coffee table is that it's "super cute!" *rolls eyes* but my favorite thing about it is that it's snack-sneakin' level!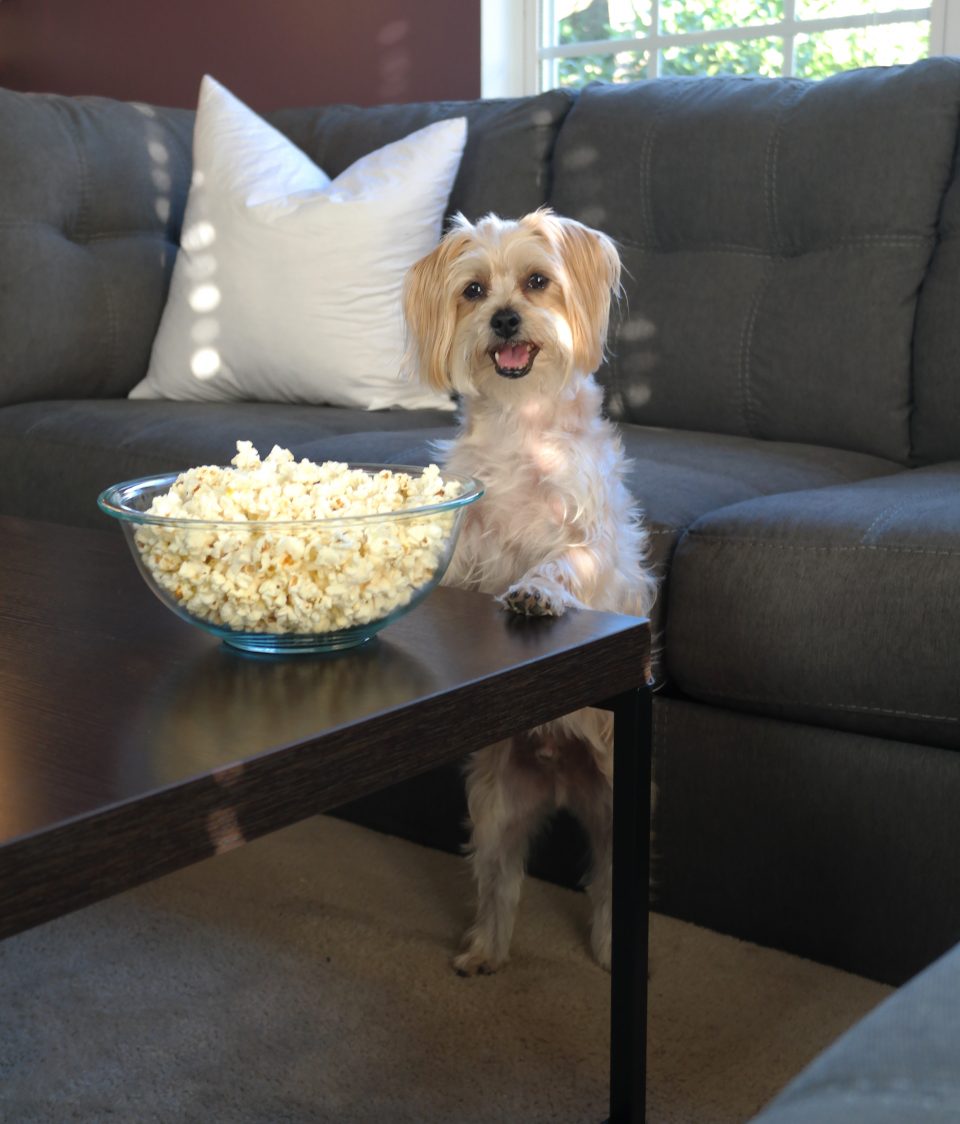 so now i can sneak snacks off of the table whenever i want…and whenever the human isn't looking. #ShhhDon'tTell
but while i love my new snack-sneakin' level coffee table… i kinda sorta hit my head on it today. i was playing with my ball and forgot it wasn't as tall as our other (super ugly) coffee table, and *THUNK* poor lil' rams. it's ok, i recovered quickly when the human offered a bacon treat to console me.
a BIG thanks to the wayfair pet squad for helping jumpstart our living room redecorating project! stay tuned for more photos and updates about my adventures as a #WayfairPetSquad member 🙂